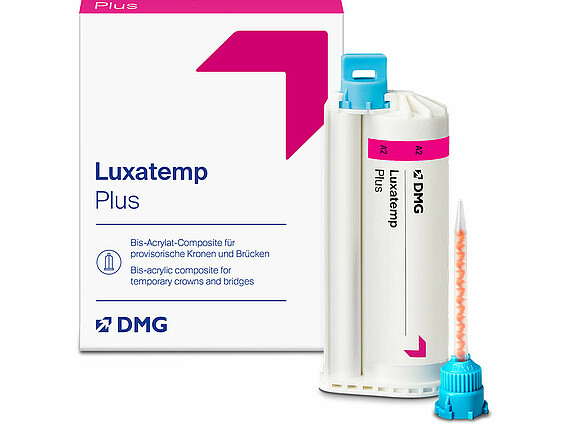 Luxatemp Plus
Luxatemp Plus has been the material of choice for perfect-fit temporary restorations around the world for decades. The material is extremely easy to work and is well-suited to long-term temporaries too thanks to its high abrasion resistance.
Luxatemp Plus
High flexural strength and abrasion resistance
---
Luxatemp Plus in detail
Luxatemp Plus can be excellently worked and ground. Also, like all Luxatemp variants, it can be excellently polished to a high gloss – or, even better and more hygienic, varnished with Luxatemp Glaze & Bond. The material also has a high level of biocompatibility.
Starter Pack : Luxatemp Plus
1 Cartrigde @ 76 g
1 Automix Dispenser Type 50 10:1
15 Automix Tips Blue 10:1
Shade A2
REF 110400
Pack: Luxatemp Plus, shade A1
1 Cartridge @ 76 g
15 Automix Tips Blue 10:1
REF 110401
Pack: Luxatemp Plus, shade A2
1 Cartridge @ 76 g
15 Automix Tips Blue 10:1
REF 110402
Pack: Luxatemp Plus, shade A3.5
1 Cartridge @ 76 g
15 Automix Tips Blue 10:1
REF 110403
Pack: Luxatemp Plus, shade B1
1 Cartridge @ 76 g
15 Automix Tips Blue 10:1
REF 110404
Pack: Luxatemp Plus, shade Bleach Light
1 Cartridge @ 76 g
15 Automix Tips Blue 10:1
REF 110368
Economy pack: Luxatemp Plus, shade A1
5 Cartridges @ 76 g
75 Automix Tips Blue 10:1
REF 110405
Economy pack: Luxatemp Plus, shade A2
5 Cartridges @ 76 g
75 Automix Tips Blue 10:1
REF 110406
Economy pack: Luxatemp Plus, shade A3.5
5 Cartridges @ 76 g
75 Automix Tips Blue 10:1
REF 110407
Accessories: Luxatemp Star, 45 Automix Tips Blue 10:1
REF 110409
Accessories: Luxatemp Star, 1 Automix Dispenser Type 50 10:1
REF 110411