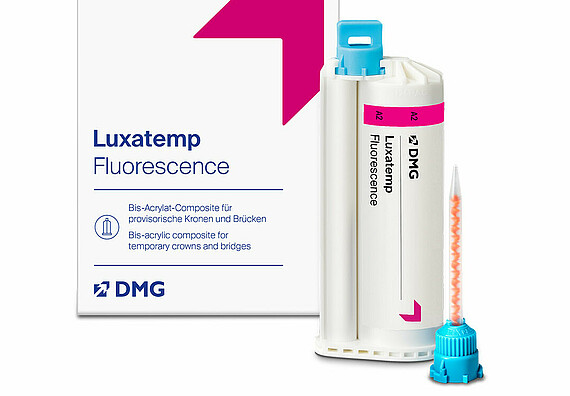 Luxatemp Fluorescence
Luxatemp Fluorescence is the ideal material for perfect-fit temporaries with natural aesthetics. Above all else, it is characterised by excellent mechanical properties, low polymerisation shrinkage and its special fluorescence, which is similar to that of natural teeth.
Luxatemp Fluorescence
Low polymerisation shrinkage
---
Natural fluorescence and high shade stability
---
Luxatemp Fluorescence in detail
Thanks to its great surface hardness, Luxatemp Fluorescence is extremely abrasion resistant, at the same time showing good grinding and polishing properties. Due to its high fracture resistance, the material is very well suited to long-term temporaries. The material's low polymerisation shrinkage also ensures a stress-free adaptation and a comfortable fit of the temporary.
The good fluorescence of Luxatemp Fluorescence allows the temporaries to reflect light just like natural teeth, under all lighting conditions. Luxatemp Fluorescence is available in six fluorescent colours that have superb shade stability. This guarantees a permanently natural aesthetic.
Pack: Luxatemp Fluorescence, 10 Smartmix Tips Green-Blue, 1 Smartmix Syringe @ 15 g, shade A1
REF 110718
Pack: Luxatemp Fluorescence, 10 Smartmix Tips Green-Blue, 1 Smartmix Syringe @ 15 g, shade A2
REF 110719
Pack: Luxatemp Fluorescence, 10 Smartmix Tips Green-Blue, 1 Smartmix Syringe @ 15 g, shade A3
REF 110720
Pack: Luxatemp Fluorescence, 10 Smartmix Tips Green-Blue, 1 Smartmix Syringe @ 15 g, shade B1
REF 110722
Pack: Luxatemp Fluorescence, 10 Smartmix Tips Green-Blue, 1 Smartmix Syringe @ 15 g, shade Bleach Light
REF 110723
Pack: Luxatemp Fluorescence, 15 Automix Tips Blue 10:1, 1 cartridge @ 76 g, shade A1
REF 110585
Pack: Luxatemp Fluorescence, 15 Automix Tips Blue 10:1, 1 cartridge @ 76 g, shade A2
REF 110586
Pack: Luxatemp Fluorescence, 15 Automix Tips Blue 10:1, 1 cartridge @ 76 g, shade A3
REF 110710
Pack: Luxatemp Fluorescence, 15 Automix Tips Blue 10:1, 1 cartridge @ 76 g, shade A3.5
REF 110587
Pack: Luxatemp Fluorescence, 15 Automix Tips Blue 10:1, 1 cartridge @ 76 g, shade B1
REF 110588
Pack: Luxatemp Fluorescence, 15 Automix Tips Blue 10:1, 1 cartridge @ 76 g, shade Bleach Light
REF 110589
Economy pack: Luxatemp Fluorescence, shade A2
5 Cartridges @ 76 g
75 Automix Tips Blue 10:1
REF 110712
Economy pack: Luxatemp Fluorescence, shade A3
5 Cartridges @ 76 g
75 Automix Tips Blue 10:1
REF 110713
Accessories: Luxatemp Fluorescence, 50 Smartmix Tips Green-Blue
REF 110990
Accessories: Luxatemp Fluorescence, 45 Automix Tips Blue 10:1
REF 110409
Accessories: Luxatemp Fluorescence, 1 Automix Dispenser Type 50 10:1
REF 110411