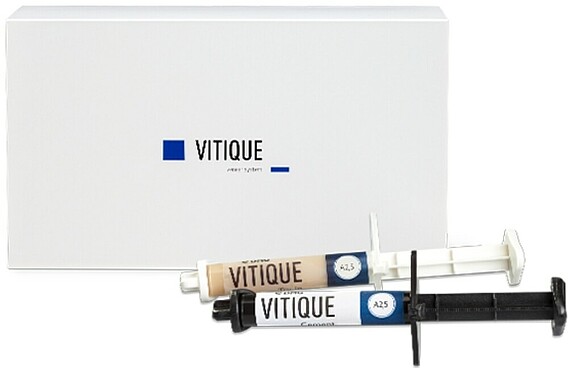 Vitique

Vitique is your premium cementing system for complicated veneer work. The light-curing, composite-based cements are available in a wide range of shades. Perfectly matched try-in pastes for each shade allow a reliable preview of the final result.
Vitique
Complete system for veneer cementation
---
Highly aesthetic results thanks to precisely matched try-in pastes
---
With special veneer tips for clean working
Vitique

Vitique offers you all the options for cementing aesthetically challenging veneer restorations. The Vitique System consists of two perfectly coordinated kits: the Cementation Kit with cements and try-ins, and the complementary Accessory Kit with etching gel, silane and bond. The flexible colour selection meets all aesthetic requirements. The three colours in the Cementation Kit can be supplemented with five additional colours as desired. Precisely matched try-in pastes allow an accurate preview of the exact result.
The practical Veneer Tip allows you to apply the material both evenly and quickly. Excess material is easy to remove in one piece – simply, cleanly and quickly.
Pack: Vitique, Cementation System
3 Syringes @ 6 g Aesthetic Resin Cement, shades: A2.5, B1, TR
3 Syringes @ 3.9 g Try-in Paste, shades: A2.5, B1, Transparent
1 Syringe @ 2 ml DMG Etching Gel, 1 bottle @ 5 ml TECO
1 Bottle @ 3 ml Vitique Silane Adhesive
1 Bottle @ 3 ml Vitique Silane Activator
Accessories
REF 213080
Pack: Vitique, Cementation Kit
3 Syringes @ 6 g Aesthetic Resin Cement, shades: A2.5, B1, TR
3 Syringes @ 3.9 g Try-in Paste, shades: A2.5, B1, Transparent
50 Veneer Tips
REF 213081
Pack: Vitique, Accessory Kit
1 Syringe @ 2 ml DMG Etching Gel, 1 bottle @ 5 ml TECO
1 Bottle @ 3 ml Vitique Silane Adhesive
1 Bottle @ 3 ml Vitique Silane Activator
Accessories
REF 213082
Refill pack: Vitique, 1 syringe @ 6 g Aesthetic Resin Cement, 10 Veneer Tips, shade A1
REF 213038
Refill pack: Vitique, 1 syringe @ 6 g Aesthetic Resin Cement, 10 Veneer Tips, shade A2.5
REF 213039
Refill pack: Vitique, 1 syringe @ 6 g Aesthetic Resin Cement, 10 Veneer Tips, shade A4
REF 213040
Refill pack: Vitique, 1 syringe @ 6 g Aesthetic Resin Cement, 10 Veneer Tips, shade B1
REF 213041
Refill pack: Vitique, 1 syringe @ 6 g Aesthetic Resin Cement, 10 Veneer Tips, shade Bleach Light
REF 213042
Refill pack: Vitique, 1 syringe @ 6 g Aesthetic Resin Cement, 10 Veneer Tips, shade Transparent
REF 213043
Refill pack: Vitique, 1 syringe @ 6 g Aesthetic Resin Cement, 10 Veneer Tips, shade White
REF 213044
Refill pack: Vitique, 1 syringe @ 6 g Aesthetic Resin Cement, 10 Veneer Tips, shade Pink
REF 213045
Refill pack: Vitique, 1 syringe @ 3.9 g Try-in Paste, 10 Veneer Tips, shade A1
REF 213048
Refill pack: Vitique, 1 syringe @ 3.9 g Try-in Paste, 10 Veneer Tips, shade A2.5
REF 213049
Refill pack: Vitique, 1 syringe @ 3.9 g Try-in Paste, 10 Veneer Tips, shade A4
REF 213050
Refill pack: Vitique, 1 syringe @ 3.9 g Try-in Paste, 10 Veneer Tips, shade B1
REF 213051
Refill pack: Vitique, 1 syringe @ 3.9 g Try-in Paste, 10 Veneer Tips, shade Bleach Light
REF 213052
Refill pack: Vitique, 1 syringe @ 3.9 g Try-in Paste, 10 Veneer Tips, shade Transparent
REF 213053
Refill pack: Vitique, 1 syringe @ 3.9 g Try-in Paste, 10 Veneer Tips, shade White
REF 213054
Refill pack: Vitique, 1 syringe @ 3.9 g Try-in Paste, 10 Veneer Tips, shade Pink
REF 213055