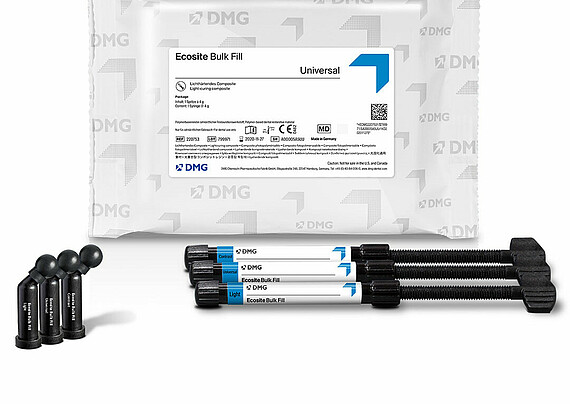 Ecosite Bulk Fill
Ecosite Bulk Fill guarantees particularly easy handling due to its firmer consistency and saves a significant amount of time due to potential application in just one single step. Additionally, the Premium Bulk Fill material offers a convincing chameleon effect with the Universal colour variant.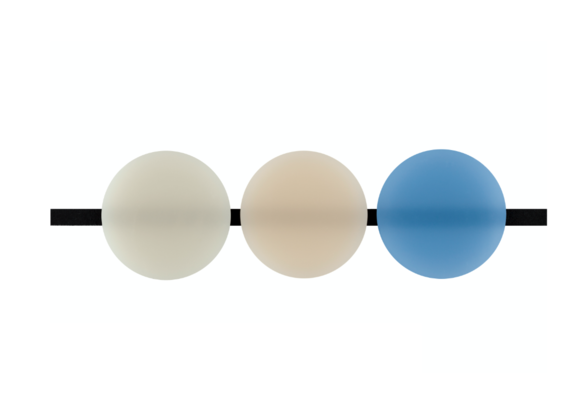 Three variants, all colour options
For maximum simplicity in daily posterior restorations, Ecosite Bulk Fill offers three colour experts:
Thanks to the Universal colour variant with chameleon effect, all the common VITA shades can be achieved with just one universal shade.
The colour system is complemented by the Light variant, the specialist for light shades and paediatric care.
Contrast rounds off the range and offers a clear contrast to the tooth structure – which is important for the likes of core build-up.
Bulk Fill – the ideal material for small Class II restorations.
The common method for introducing composite into large cavities is to place the filling material in several layers measuring about 2 mm thick to achieve sufficient curing and low shrinkage stress. Recently, new composites have been introduced – bulk composites that can be applied and cured in increments of up to 5 mm. The filling protocol of this bulk composite significantly reduces the treatment time for completing the restoration, which is beneficial for the practitioner and the patient alike. Additionally, the bulk filling materials have less stress at the interfaces, reducing microleakage. From a clinical point of view, they are characterised by very precise handling and allow safe point of contact design, and some of them have very good mechanical properties due to the high filler content and the improved organic resin matrix. In daily restorative practice, they seem to be perfectly suited for many clinical scenarios. Most dentists only consider using bulk filling materials for large cavities, when in fact using them is very beneficial for small to medium-sized cavities too. The patient, a young teenage girl, attended the clinic for a dental check-up (Fig. 1). A bite wing X-ray image (Fig. 2) revealed a medium-sized interproximal cavity in tooth 16.
Dr Andrea Fabianelli, Italy
---
Download the full user report.
Ecosite Bulk Fill – user report, PDF (1.7 MB)
---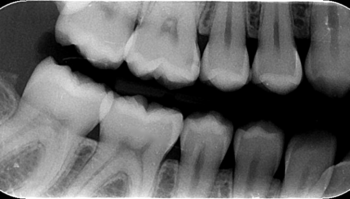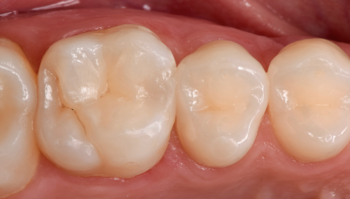 Ecosite Bulk Fill
Straightforward, reliable and aesthetic posterior region restorations
---
Universal shade option means that every standard VITA shade is achievable
---
High degree of reliability thanks to minimum shrinkage stress
Pack: Ecosite Bulk Fill, 16 Safetips @ 0.25 g, shade Light
REF 220755
Pack: Ecosite Bulk Fill, 16 Safetips @ 0.25 g, shade Universal
REF 220756
Pack: Ecosite Bulk Fill, 16 Safetips @ 0.25 g, shade Contrast
REF 220757
Pack: Ecosite Bulk Fill, 1 syringe @ 4 g, shade Light
REF 220752
Pack: Ecosite Bulk Fill, 1 syringe @ 4 g, shade Universal
REF 220753
Pack: Ecosite Bulk Fill, 1 syringe @ 4 g, shade Contrast
REF 220754
Accessories: Ecosite Bulk Fill, 1 Safetip Dispenser
REF 213122
Accessories: Ecosite Bulk Fill, 1 Safetip Dispenser Pro
REF 220829