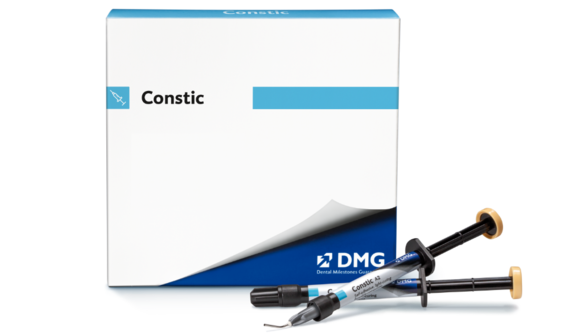 Constic
Constic is your self-etching, self-adhesive flowable composite in DMG quality. It combines etching gel, bond and flowable composite in just one product – for a particularly efficient and safe application.
Just fill. Constic – the self-etching and self-adhesive filling material
The desire to simplify work steps during restorative treatment is greater than ever before, with today's wide selection of bonding systems with complicated work processes to some extent. Particularly in the case of small Class I restorations, as well as fissure sealing and lining, which can be performed relatively quickly, preparatory steps such as etching and bonding protract the working time. At the same time, the number of possible sources of error increases, since, if certain process steps are neglected, the durability of the restoration can be drastically reduced.
Constic is the self-adhesive and self-etching flowable composite from DMG, which combines etching, bonding and filling in one single step and features superior adhesive strength to enamel and dentine along with good aesthetics.
In the case shown, a small, inadequate Class I restoration on tooth 17 can be seen.
Matthias Hodecker, Julia Gerke, Germany
---
Download the full user report.
Constic – user report, PDF (2.8 MB)
---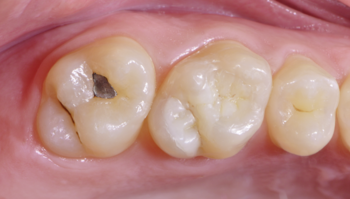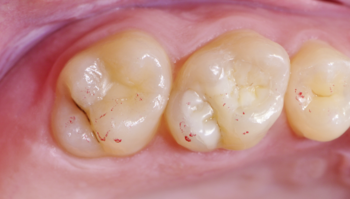 Constic
Self-etching and self-adhesive
---
Radiopacity and tooth-like fluorescence
---
Minimises postoperative sensitivities
Pack: Constic, shade A1
2 Syringes @ 2 g, 1 brush holder
20 Clip-on Brushes, 20 Luer-Lock Tips Silver
REF 220700
Pack: Constic, shade A2
2 Syringes @ 2 g, 1 brush holder
20 Clip-on Brushes, 20 Luer-Lock Tips Silver
REF 220701
Pack: Constic, shade A3
2 Syringes @ 2 g, 1 brush holder
20 Clip-on Brushes, 20 Luer-Lock Tips Silver
REF 220702
Pack: Constic, shade A3.5
2 Syringes @ 2 g, 1 brush holder
20 Clip-on Brushes, 20 Luer-Lock Tips Silver
REF 220703
Pack: Constic, shade B1
2 Syringes @ 2 g, 1 brush holder
20 Clip-on Brushes, 20 Luer-Lock Tips Silver
REF 220704
Pack: Constic, shade Opaque White
2 Syringes @ 2 g, 1 brush holder
20 Clip-on Brushes, 20 Luer-Lock Tips Silver
REF 220705
Accessories: Constic
20 Clip-on Brushes
20 Luer-LockTips Silver
REF 220712