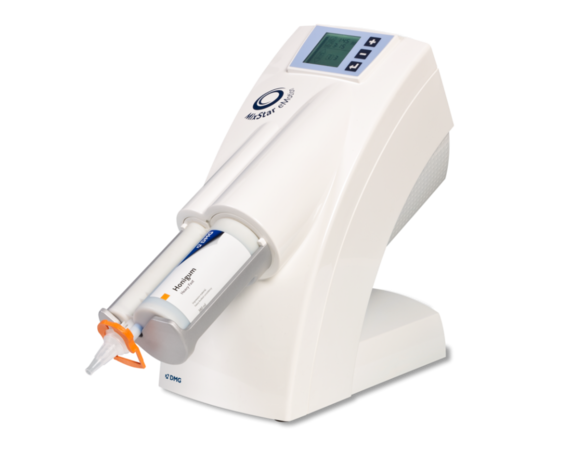 MixStar eMotion
Mixing couldn't get any easier, faster or safer. Regardless of your bite registration material and technique preferences, the MixStar eMotion truly makes your daily work easier. For fully automatic use in MixStar eMotion, DMG offers a comprehensive line of high-quality bite registration materials.
MixStar eMotion – fully automatic mixing with electronic perfection
MixStar eMotion
Consistently homogeneous and bubble-free material quality
---
USB port for software updates
---
MixStar eMotion in detail

The unit can be operated with just one hand – all you need to do is push a button for fully automatic dosing, mixing and spreading with electronic precision. This makes work particularly easy and hands-free. Two timer functions for working time and setting time in the mouth make work even easier. Here, you can set the corresponding times for different bite registration materials in the unit in advance, save them and easily retrieve them time and again. The MixStar eMotion has three different speeds. They were developed to optimise the impression-taking process.
Pack: MixStar eMotion
1 MixStar eMotion 230 V Int.
REF 900480