Future under construction
Building your career in dentistry.
This Interdentale online event in cooperation with StyleItaliano will provide a brief introduction into the clinicians background in dentistry.
Dr. Ahmed Samer Tadfi reflects on his first five years of practice and will provide an insight into the different routes available to newly graduated dentists who are unsure of the pathway they wish to choose.
Description
The online session will also highlight the importance of building a professional portfolio using clinical photography, auditing clinical treatments, pursuing affiliations, prizes and awards. In addition the session will highlight the values of setting goals and how to maintain motivation and commitment to providing high quality dental care.

Dr. Ahmed Samer Tadfi is looking forward to answering all your questions at the end of the session.

Any questions left?
Our team of the Clinical Research Department is looking forward to answering your questions under +49 (0) 40 84006 348 or email at clinicalresearch@mtcompanies.com .
Speakers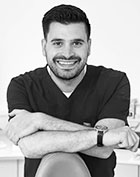 After completing a BSc degree in Biomedical Sciences, Ahmed went on to graduate Dentistry from the University of Birmingham School of Dentistry in 2014 where he received several awards for his endodontic and restorative work. Ahmed has specific interests in Endodontics, Aesthetics and Restorative dentistry and currently works in London. His attention to detail, natural talent and beautiful photography has gained him international recognition within the high-end cosmetic dentistry circles, and he was quickly recognised as an up-and-coming talent, earning him positions as a key opinion leader for a number of major dental companies. He has rapidly achieved a phenomenal reputation as a skilled clinician and is now involved in teaching and mentoring both undergraduate and postgraduate dentists. In 2018, Ahmed was voted 'Best Young Dentist UK' and most recently Styleitaliano Silver membership.
*By registering, I agree that my aforementioned data will be collected and stored internally at DMG Chemisch-Pharmazeutische Fabrik GmbH (DMG) and that the data may only be used for internal communication between me and DMG inclusive DMG's representatives and/or selected trade partners. I can revoke this declaration of consent to DMG at any time. The revocation can be made by phone or mail. Here you will find more information on data protection at DMG.