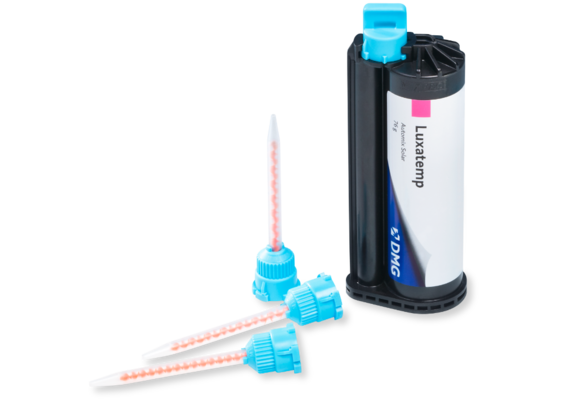 Luxatemp Solar
Luxatemp Solar is your specialist for multi-unit temporary work. The elastic phase was extended in this regard to make removing the temporary easier. Undercuts do not tear off.
Luxatemp Solar
Curing point can be user-determined
---
Easier removal of the temporary
---
High final hardness immediately after light cure
Luxatemp Solar in detail
Luxatemp Solar is especially suitable for multi-unit work and guarantees easy removal of the temporary restoration. Also, like all Luxatemp variants, it can be excellently polished to a high gloss – or, even better and more hygienic, varnished with Luxatemp Glaze & Bond.
Pack: Luxatemp Solar
1 Cartridge @ 76 g
15 Automix Tips Blue 10:1 shade A2
REF 110360
Economy pack: Luxatemp Solar
5 Cartridges @ 76 g
75 Automix Tips Blue 10:1 shade A2
REF 110361
Accessories: Luxatemp Solar, 45 Automix Tips Blue 10:1
REF 110409
Accessories: Luxatemp Solar, 1 Automix Dispenser Type 50 10:1
REF 110411